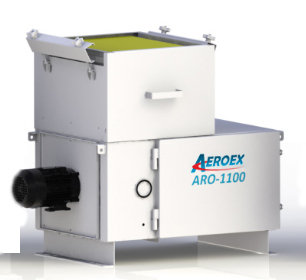 Oil Mist Collectors
Rotem Industrial Products is proud to offer Aeroex mist collectors as a premium solution for your CNC lathe and mill requirements. Aeroex's multi-stage units offer the advantage of separating the majority (95%) of mist fluid without replaceable filters over the first two stages, so costs are kept to a minimum compared to some competitor's models. An added bonus is that they are made right here in Ontario!
We offer Aeroex industrial oil mist collectors in a variety of models, including:
ARO-400
ARO-600
ARO-800
ARO-1100
ARO-1400
ARO-2000
ARO-2500
Call us today to learn more about these quality built mist collectors.

See a description of the Aeroex mist collectors we offer below.