Metalworking Fluid Recycling Equipment
We provide metalworking fluid recycling equipment and rental services for the machines. For more information or to place an order, call us now!

Industrial & Metalworking Fluid Recycling Equipment
We have partnered with Eriez to offer complete metalworking fluid recycling equipment. From their SumpDoc portable fluid recycling system to their famous Yellow-Bellied sumpsuckers; our coolant maintenance expertise coupled with Eriez's innovative products ensure that Rotem can solve all of your coolant maintenance problems.
Rentals
Rotem also offers weekly and monthly rentals of Eriez's powerful sumpsucker when you need to clean out a lot of machines quickly.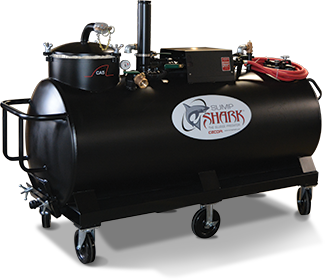 Clean dirty sumps faster, better and safer.
CECOR Sump Sharks® are high-suction sludge vacs that remove collected industrial fluids (a.k.a. coolant, metalworking fluids, cutting fluids, etc.) and solid waste from reservoirs (tanks, sumps, pits) during various commercial, industrial and metalworking processes.
These sump suckers remove even the heaviest sludge! No more grueling shoveling and time-consuming, manual cleaning. Reduce the mess and clean tanks much more quickly, thoroughly and safely.
Learn more about our sump cleaning machines here!