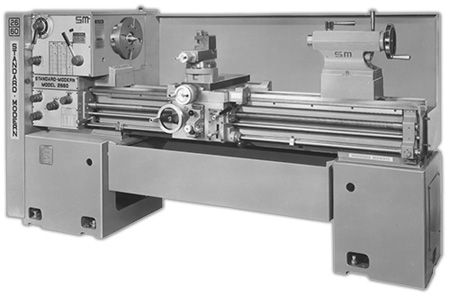 Standard Modern Lathe Features:
Options of: 1300, 1400, 1600, 2000 and 2600 series models
High capacity machines
Best suited for toolroom, maintenance and production
Capable of metric threading without spindle reverse
Many optional accessories, and special pricing for Ingersoll Cutting Tools start-up kits
Super stiff bed
Many variable features depending on series
Two year limited warranty
The preferred choice of manual lathe for training institutions and schoolboards

For the best North American made manual lathes, Rotem is proud to offer the complete line of Standard Modern lathes. Made in Cambridge, Ontario, these lathes have serviced workshops and schools across the continent, including the American and Canadian Armed Forces. We carry all their standard series models as well as replacement parts for the following models: 1300 series, 1600 series, 2000 series. and 2600 series. When purchasing with Rotem, we guarantee you're getting top quality products that stand above the competition in quality, reliability and durability.
Standard Modern equipment is locally made in Canada from the ground up by Canadians. They are globally renowned for their quality, durability and longevity. Our standard support time frame for spare parts and service is a 30 year life cycle and we even support equipment that is over 70 years old. With a large inventory of parts, we are only one day shipping away in extreme circumstances.
Technical capability of the machine is such that it is designed to meet rugged military testing certification which is part of all our standard products. The ways are hard and ground, the gears are hard, the machine is hand scraped into position and the headstock sits on a V that travels the length of the bed and is not just pinned into position. This allows the machine to take a lot of abuse and is very stable and rigid. The Standard Modern machines also have standard lead-screw reverse feature which allows for semi-automated repetitive threading  making it fool proof and does not require the disengaging of the lead-screw creating a very repeatable and high-quality thread both in inch and metric sizes,  considering the teaching environment is very demanding on the machines.
Through our Standard Modern brand we have over 20,000 worldwide installations including USA, Canada, Bermuda, Turkey, Iraq (US Army) to name a few.  We have a specially designed lathe that is installed on United States Navy submarines and is considered one of the key components of the submarine build.  We have our lathes on other US Navy vessels such as their Aircraft Carriers and Destroyers and are part of many deployed mobile units.  We also pride ourselves as many educational institutions throughout USA and Canada use our lathes for training purposes.
I wanted to reassure you that Racer stands behind its machines and we have had many successful machine tool installations worldwide and we are a trusted source by US Army, Air-force and Navy, educational institutions and global automotive manufacturers, among other customers.
As a Canadian manufacturer we encourage students to come for plant visits, and we are always looking for new Canadian graduates to join our work force.
At the end of the day Canadians need to and should support our Canadian economy.