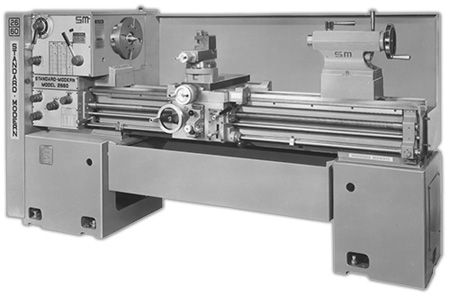 Standard Modern Lathe Features:
Options of: 1300, 1400, 1600, 2000 and 2600 series models
High capacity machines
Best suited for toolroom, maintenance and production
Capable of metric threading without spindle reverse
Many optional accessories, and special pricing for Ingersoll Cutting Tools start-up kits
Super stiff bed
Many variable features depending on series
Two year limited warranty
The preferred choice of manual lathe for training institutions and schoolboards

For the best North American made manual lathes, Rotem is proud to offer the complete line of Standard Modern lathes. Made in Cambridge, Ontario, these lathes have serviced workshops and schools across the continent, including the American and Canadian Armed Forces. We carry all their standard series models as well as replacement parts for the following models: 1300 series, 1600 series, 2000 series. and 2600 series. When purchasing with Rotem, we guarantee you're getting top quality products that stand above the competition in quality, reliability and durability.